Mad Stab: Chain Drive
Edit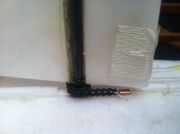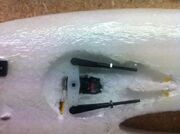 Another variation of the pull-pull mad linkage setup uses a section of plastic chain, a gear fixed to the stab pivot spar, and standard pull-pull cables and horn on the servo side. As with the pulley system, the chain drive can rotate the stab a full 180° or more!
The chain drive has been experimented with by a number of pilots with various levels of success. However Paige Anderson, of Future Slope Designs, has refined the setup to a point where he includes the system in some of his slope glider kits... most notably the Flow . Paige has show in numerous videos that gliders utilizing a chain drive system will do single and multiple flips... backwards and forwards. He has put together a number of "how to" videos ... including how to install a chain drive  in a "Flow."
Ad blocker interference detected!
Wikia is a free-to-use site that makes money from advertising. We have a modified experience for viewers using ad blockers

Wikia is not accessible if you've made further modifications. Remove the custom ad blocker rule(s) and the page will load as expected.